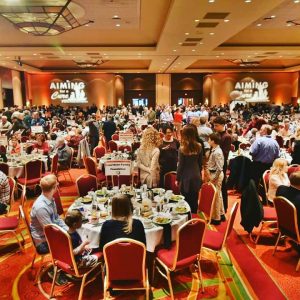 AFAC Charity Banquet & Auction 2022
The Aiming for a Cure Foundation is pleased to announce that on March 19, 2022, the annual Charity Banquet and Auction will once again be held at the Coralville Hyatt Regency Hotel & Conference Center located at 300 E 9th St, Coralville, IA 52241.
The doors will open at 5:00 p.m. for viewing of silent and live auction items and a cash bar will be available. This charity auction is only available to those that have purchased a banquet ticket and seating is more limited this year.
Banquet Details:
Following are a few of the details regarding the 2022 Charity Banquet and Auction.
Online ticket orders for the 2022 Charity Banquet & Auction can be found HERE.
We ask that you head into the banquet area by 6:00 p.m to ensure proper service for the meal to be served at 6:15.
Please request the AFAC block when reserving your room and book your room by 2/28/2022.
Online room reservations through the Hyatt Regency Website can be made HERE.
You may also call 319.688.4000 to book your room.
Anybody using a gift certificate for any portion of their hotel stay should use the call in method. Please inform the agent of the gift certificate at the time of booking.